5.0
Debugging Tips & Techniques
Following is a random collection of tips, techniques, art and lore. Your mileage may vary, but little things such as these can sometimes be the difference between success and complete lunacy.

5.1 First principles
When you write your program, it is always a good idea to make an LED blink, just to indicate that the chip is alive and running. Obviously, this cannot be the power LED, but another LED wired up to a Digital I/O pin that is configured as an output.

So assume you've written your program, compiled and loaded the code, and powered up your CUI. And the LED doesn't blink. Now what?

Are you getting power? Measure with a multimeter between the +5V and GND on your board. You should see a stable +5 volts. If not, make sure that the PIC is inserted correctly: the "dimple" (indicating pin 1) should be pointing towards the USB connector at the "top" of the board.
Is the PIC's oscillator running? Look between ground and pin 13 or 14 on the PIC using a 10x oscilliscope probe (the impedance of a 1x probe is sufficiently small to kill the oscillations.) If you don't see a 20MHz waveform, did you remember to configure the programming fuses for an "HS" oscillator type?
5.2 Debugging
Program all unused I/O pins to be outputs. This way, you can set the state of a particular I/O pin to be TRUE when you enter a routine and FALSE when you leave it. At the very least, this practice, along with an oscilloscope, can give you confirmation that a particular piece of code is being executed.
Make the board do something visible or audible for help debugging. In the case of the CUI 0.9, consider adding different color LEDs for status indicators, and turning them on or off before or after the different parts of your program are executed.
5.3 Burning the bootloader
As mentioned before, the very first time you program your CUI it has to be done with the ICD2 programmer instead of PDFSUSB.EXE. This is because the PIC is completely blank from the factory, and you must program the hex file for the bootloader into the PIC in order to enable future programming sessions to be done via PDFSUSB.EXE.
The bootloader hex file is located in the CUI Example Code that you downloaded earlier. In MPLAB, open the hex file C:\CUI\Boot\_output\MCHPUSB.hex, select the ICD2 as the programmer, and click program device. This bootloader is slightly different from the bootloader that can be downloaded directly from Microchip's website, so make sure to use this one (Microchip's will not work with the CUI circuit).
To enter bootloader mode, hold down the program button on the CUI while plugging in the USB cable, or resetting the board. Your computer will not recognize the bootloader firmware, so you must install the correct driver (only necessary this one time). When windows says "Found New Hardware", click "No, Not This Time", then choose "Install from List". Then click on "Browse..." and choose the directory "C:\CUI\MCHPUSB Driver\Release" - then "Next", "Continue Anyway", and "Finish". Well, that's it - you've got a working CREATE USB Interface now, to be modified and customized to do whatever you want!


Pre-made, ready-to-use CUI v1.0
Feel free to email me if you're interested in a getting a pre-built/bootloaded CUI v1.0 for 50 Euros. It comes ready to use with Max/MSP/Jitter, SuperCollider, or any other program that receives USB HID data - just hook up your own sensors to the 13 analog inputs (10-bit resolution) and buttons/switches to the digital inputs, etc... You can also get ready made sensors from the phidgets website, and of course you can re-program it using the bootloader (no need for a PIC programmer), and use the prototyping area to do whatever you want.




CUI v1.0 can be custom-ordered with Bluetooth for wireless functionality (works with Max/MSP and Pd, same features as wired version), powered by rechargeable Li-Ion battery!

Also, here is a forum that can be used by those working with the CUI: USB Development forum at sparkfun

Plus a couple of mailing lists for those working with the CUI: CUI-users subscribe here and CUI-dev subscribe here

Links to example Max/MSP/Jitter, Pd, and SuperCollider Patches:
USB CUI for Macintosh
USB CUI for Windows
Bluetooth CUI for Macintosh and Windows
Bluetooth CUI for PD
USB CUI for for Max4.6 - on intel Macs with Max/MSP 4.6, the [hi] object seems to have changed, this firmware update and corresponding test patch resolves the problem. Also includes "CUI IO v1.0" firmware for compatibility with [hidio] object for both Max and Pd (currently in progress 17 January 2007).
SuperCollider3 HIDControl - port of Jan truzschler's HIDControl Ugen to intel Macs - also removes the autoscaling to avoid clicks.

Here are some new and useful tools for the CUI made by users!
CUIOSC by MarkDavid Hosale - a stand alone OS X program that converts the CUI's USB input to OSC (Open Sound Control).
Boot Down by Craig Schimmel - a CUI bootloader utility for OS X that allows firmware updates on Macintosh!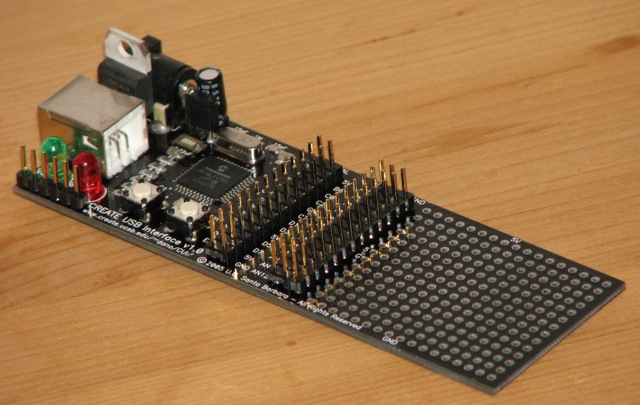 From May 2008, all pre-made CUI boards are black as shown above, with the new PIC18F4553 that has an increased resolution 12-bit ADC! They also natively support Open Sound Control (OSC) and MIDI-over-USB functionality in addition to the default HID firmware. Example firmware and corresponding Max5, Pure Data, and SuperCollider, ChucK, etc. patches coming soon... The price for the new black CUI boards is 50 Euros plus shipping (from Denmark). Email me to get a quote - payment is through PayPal (can be done online with a credit card even if you don't have a PayPal account), and invoices can be sent in PDF format.

The "CUIduino" is born - an Arduino in the prototyping area of a CUI, see here for instructions!


The CUIduino has the potential to allow your Arduino projects to show up as a true HID device (mouse/keyboard/gamepad, etc), or many other device types (see some below), unlocking Arduino from the tyranny of the FTDI USB-serial converter chip. But what is this blasphemy, having a PIC and an AVR chip on the same board, you ask? The answer may lie in this PIC vs AVR smackdown which points out - at the bottom of the page - that PICs have had hardware USB support for some time now. While the CUI came out around the same time as the Arduino (2005), it was the only one to feature true USB - nonetheless, the Arduino became popular due to its easy development environment and availbility. The Arduino community is a wonderful thing - an open source ideal that the CUI has always shared ... and now you can have your cake and eat it too with the CUIduino!

The CUI now speaks OSC (Open Sound Control) natively, thanks to CNMAT! Get "µOSC" here...

The CUI also now speaks MIDI-over-USB natively, this bypasses the old-skool MIDI baud-rate limit of 31.25KHz, since the concept of buad rate is completely obfuscated with MIDI-over-USB. Additionally, this firmware (for the 18F4553-based CUIs) sends all the analog input pins as pitch-bend type data (using all 12 bits of the ADC converter) along side note-on/note-off data from the digital input pins. Thus, many of the problems with the original MIDI specification (low bandwidth, limited resolution) are addressed. A compiled hex file for the CUI and an example Max5 patch for receiving the data included in the zip file - get it here. Many thanks to http://omino.com/ for the base firmware - it currently works great on OS X, not so great on Windows, and hasn't really been tested on Linux yet.

Finally, an updated version of the original HID game-controller type CUI firmware (much improved, using interrupts) is here, and you can find the MPLAB source project files here.